So... in just two more days Danfredo will be getting married!!! If you guys don't know yet it's like the wedding of the century!!! I will be Guest blogging tomorrow on her blog So please check that out!!!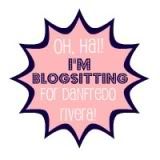 But for now she is having an awesome giveaway!!! DANFREDO RIVERA is partnering up with ISABELLE SELBY PHOTOGRAPHY
!!!!!
They are giveaway a great family session!!! I want all my readers followers and friends to go visit and enter the giveaway!!! If you are not lucky enough to win you can can get $50 bucks off a session when you mention Danfredo
Now I think I covered all the bases!!! So please don't forget to enter the giveaway and look out for my guest blog post tomorrow!!! Love ya guys!!!